The Designest may receive compensation from companies, products, and services featured in this publication. For more details, please refer to our Affiliate Disclosure page .
Photoshop, Affinity, Procreate…is that all? When it comes to drawing software, people usually name these fellas, although if you dig a bit deeper, you can wallow in a great variety of free and paid subscription-based drawing apps or the ones requiring one-time payment. All in all, here's the list of our top picks.
Mastering new digital painting software with its unique tools and tricks can result in discovering a fresh approach to illustration, learning new techniques, and redefining your personal style. At least that's what we hope for when making this selection of digital art software. It never hurts to try out the free drawing software: you'll be surprised how much high-quality content can be found for free. And if you had doubts about some of the paid ones, let this article add more to "pros & cons," so you can finally go for it and get yourself the best digital art software!
Windows (10 64-bit (version 20H2) or later).
macOS (macOS Big Sur (version 11.0) or later).
iPadOS (14.0, iPad Pro all generations, 5th-7th generations, Mini 5th generation, Mini 4, Air 3rd generation, Air 2).
Adjust, crop, retouch photos and images.
Remove and move objects and backgrounds.
Combine images to create new scenes.
Automate tasks and actions in Adobe Photoshop.
Add artistics and creative filters like blurs.
Paint with smooth lines and curves.
Make 3D artwork for animation or print.
Adjust weight and width on variable fonts.
7 days free trial.
Photography (Lightroom, Lightroom Classic, Photoshop on desktop and iPad, and 1TB of cloud storage.) — US$19.99/mo.
Adobe Photoshop — US$20.99/mo.
Useful Plug-Ins, Filters, Textures, Overlays, and Actions
Support of graphics tablet
Cloud Storage
Very versatile functionality amount other drawing programs
Expensive Creative Cloud subscription
Steep learning curve
Very space-consuming program
Limited support for vector graphics
Perhaps, the very first drawing software coming to mind when speaking of creativity and graphic design is Adobe Photoshop. It's an industry standard. Some say, that it's a half of success, when the drawing tools are of a high quality to let you follow the spirit of imagination not tied up by the absence of required drawing tool, lagging tabs and strokes. And we tend to fully believe that statement with a little side note attached: free drawing software or a paid one, the main criterion should be the programs' ability to fulfil any need . And Adobe Photoshop has proved to be exactly that kind of digital art software! When you start your creative path in design, getting acquainted with Photoshop software for digital art is some sort of a baptism by fire, the obligatory step in upgrading your graphic design skill level. It's simply the classic versatile software everyone must try out. The Adobe Creative Cloud drawing apps eco-system, makes accessing and sharing assets via any device a super easy process: your data is safe.
The longer you work with this painting program, the more functional tools you discover . But it happens to be the way that your standard set of operations slightly changes over the years once it settles. What does it mean? You can still wobble on the iceberg peak with only, let's say, 30% of discovered creative possibilities and still feel absolutely comfortable about it, not deprived of any photo editing or digital painting tools.
Adobe Photoshop has its downsides too. If it freezes — it freezes hard. It's not totally the art software to blame but the system workload, compatibility questions and stuff. But honestly, working in multiple layers can slow down work to the turtle pace and spend so much system resources. Any of the professional artistscan relate to that.
Windows (11 and 10 (64-bit) versions V21H1, and V20H2. Not supported on Windows 10 versions 1507, 1511, 1607, 1703, 1709, 1803, 1809, 1903, 1909, and 2004).
macOS (version 12.0 — Monterey, version 11 — Big Sur, version 10.15 — Catalina).
iPadOS 14 or later.
Create, edit, and combine simple shapes.
Design logos and draw vector graphics.
Add effects to make your art pop.
Add impact with professional typography and text tools.
Design packaging with 3D Revolve.
Mock up a website design with the best type instruments.
Trace and recolor imported photos to turn them into works of art.
Create up to a thousand artboards on your canvas.
Add images and artictic effects.
7 days free trial.
Adobe Illustrator — US$20.99/mo.
Versatile software for digital artists
Best file recovery
Wide variety of exporting options
Awesome image tracing tool
Takes up a lot of disk space
It's hard to learn for beginners
Limited support for raster graphics
Expensive CC monthly subscription when you need only Adobe Illustrator
Despite its name, which literally states that this app is for creating digital illustration and drawing , Adobe Illustrator was surpassed by its closest equivalent — Adobe Photoshop. And when we bring up the talk about best digital art software, it's mostly Adobe Photoshop that gets mentioned as an industry standard. Not hard to be: there are gazillions of .abr brushes being released, so once you open this app you can stay in there to perform any operation from drawing digital illustration to photo editing the ready-made composition. However, there is a major difference between Adobe Photoshop and Adobe Illustrator — the latter allows creating vector graphics . So if you're more comfortable with working in vector, it's Adobe Illustrator drawing tool you need to get right away.
Of course, it has tons of handy creative brushes too! And filters, and type tools, and editing functions, and all of that Photoshop can boast with. But here everything can be scaled without losing the quality ! If you come to this software after Photoshop, the instruments and interface won't be completely new for you, it's easy to use. The thing many people point out about working in Adobe Illustrator is that you can create complex files of any type : from logotypes, graphs, presentations, website updates to hand-drawn illustrations. It's both a benefit and a disadvantage, actually: because of the loaded software system, the app can be very slow, lag and overload the PC. Sometimes it shuts down with an error , which is very irritating. But the strong sides of Adobe Illustrator cover it all up and let you enjoy the workflow.
Windows (7 (Service Pack 1; Platform Update KB2670838; Aero enabled), 8.1, 10 (1607 Anniversary update or higher), 11).
macOS (10.9 — Mavericks or later).
iOS (iPad Pro all models, Air 2-5, iPad 2017 onwards, Mini 5,6) with operating system 12 or above.
Live gradients, effects and adjustments.
Real time blend mode previews.
All transforms and curve edits previewed live.
Optimized for documents of any complexity.
Vector and raster options.
Advanced grids and guides.
Unlimited artboards of any size.
Comprehensive OpenType support.
Affinity Designer — US$69.99 (macOS and Windows users can have free trial period).
Affinity Designer for iPad — US$19.99 .
Combines vector & raster design tools
Handle 1000s of objects with no lag
Affordable software with one-time purchase payment
Graphics tablet support is still a work in progress
No .ai file export
When we had received the early access to Affinity Designer to give it a go for the first time before the official software release, everything was so unusual: in terms of feelings it was like you already know how to ride a bike but you had to ride a completely new version of the same very bike. Many new and unfamiliar drawing tools and features, packed in a colorful interface caused a mild confusion. Nevertheless, rediscovering the digital art tools in a new form was both exciting and unusual.
What really was miraculous and the best about digital art software is the magic switch between pixel and vector formats ! It was just a matter of clicks. Such a convenient tool for digital drawing, it saved tons of time we could spend on preparing the project for the big release. However, before the very first updates were released, the command for the formats switching crashed the program without saving the results. Thankfully, the problem was fixed in no time!
The second cherished feature was the ability to open and edit AI files , sometimes even the complicated ones. Cheat move but a very handy one when there was an urge to fix some assets and work on heavy vector graphics files .
As for the recent updates, Affinity has delivered the freshest update for macOS. Now this drawing software provides a better user experience for all the MacBook Pro owners (the proper technical boost for such a powerful M1 chip-driven computers).
Well, to wrap it up, just don't confuse Affinity Designer with Affinity Photo , these are completely two different things. Beyond that, Affinity Designer is a wonderful digital drawing software you won't regret purchasing.
iPadOS (14.4 or later).
iOS (15.4.1 or later).
Brush Studio with everything from pencils, inks, charcoals, to artistic strokes.
Color Dynamics, Color Harmony and Color History give you full color control.
Procreate is built with multi-touch gestures
Powerful Valkyrie graphics engine, allowing to paint at the speed of 120fps.
QuickShape fine-tunes any messy shape before you continue on.
ColorDrop feature to easily do the filling: pick, drag & drop onto the canvas.
Streamline strokes for smooth curves and less imperfections.
Procreate — US$9.99.
Procreate Pocket — US$4.99.
Affordable price
Perfectly simulates real-life painting
Lots of advanced drawing features
Gets slower when there are a lot of paintings in the app
Available only for iPhone and iPad users
Been puzzling over this review for a long time to create a thorough and well-written analysis, but so far, it's the best art software any of us has ever dealt with. It's not just a "good drawing program"; it seems like Procreate has everything for any type of style you work in, it's the best! With its latest Procreate 5.2 update , including a handful of new excellent features, this title was defended. Every time you work in Procreate, it feels like you're a conductor of a symphony, having a stylus pen and your fingers as instruments to operate with.
A couple of words, dedicated to the new drawing software update release, as the introduced features worth to be emphasized. Among the announced editing tools every Procreate user can boast about there are Stroke Stabilization, 3D Model Painting, Page Assist, a suite of accessibility features , and more adjusted layers & resolution settings, made to run wild with M1s and iPads. The brush stroke tools in Procreate were perfect before, but the developers set a new higher ground once again: the smoothness of lines and a sensitive stylus pressure turn an Apple Pencil into the extension of your hand so naturally. Speaking of, the same Apple Pencil now allows you to expand drawing tools onto the 3D Model experience, helping to work on effects, lighting, gloss, and reflectivity of voluminous objects.
Haven't found anything significant in terms of disadvantages throughout the use of Procreate. Although, can say for sure that some marvelous drawing software functions are hard to find : you just stumble upon them. But tutorials, that Procreate has in a free access , are a great help: they demonstrate you a new feature and, probably, let you discover a new artist to follow on Instagram. So far, this has been almost an ode to Procreate as the best digital painting software (fair to point out that it's not a sponsored part of the post!).
The app seems to be all flawless and easy to use, but its accessibility is not the first thing to mention: the joy of working in Procreate is available only to iPad and iPhone users . And here's a little tip: the more powerful your iPad is, the better — the amount of RAM affects the number of layers you can work with. The complicated assets performance here is out of question.
Windows (11 version 22000 or later, 10 version 1903 or later).
iPadOS (iOS version 14 or later, iPad Pro (all models), iPad Air (3rd, 4th generation), iPad (5th, 6th, 7th, 8th, and 9th generation), iPad mini ((5th and 6th generation).
iPhoneOS (iOS version 14 or later).
Work with watercolors and oils that blossom and blend at your touch.
Use vector and raster brushes on the same canvas.
Draw with thousands of brushes from Adobe Photoshop.
Discover essential and fast illustration tools for stylus and touch devices.
Easily isolate parts of a layer and turn selections into masks.
Start a project on your iPad/iPhone and finish it on your desktop — your work automatically syncs to the cloud.
30 days free trial.
Premium version US$9.99/mo.
Realistic brush, pen, and pencil physics
Raster and vector tools support
Easy to learn UI
Expensive digital art software
Lacking of basic editing features
Sure thing, what we're dealing here with is the resemblance of the well-known (and already adored so much) Procreate app. Adobe Fresco can't fairly compete with Procreate drawing software because of its, let's say, relative "rawness," not implying that the art software is of no use! Fresco has so many tools & all the features placed in such a likable interface. It's clear, user-friendly and understandable , everything can be easily explored during the first encounter with Adobe Fresco.
The real fun begins when you test the brushes, watercolor and oil ones in particular. It's fascinating how the colors interact with each other , imitating the real strokes so well. Even if you're an amateur in digital drawing, the chances are you'll be getting a great deal of pleasure, watching, for example, oil brushes getting mixed together, their responsive texture and realistic behavior .
The feature every drawing software developing company is tied at is achieving realistic results separately from the workflow risks a user can encounter while working with the physical equivalents of the same materials. Adobe Fresco is well-advanced at this spree, demonstrating the huge collection of raster and vector brush tools . Mixing & matching watercolors, for instance, can be a pickle when you're willing to achieve a certain quintessence of shades and a sudden leaky stroke ruins it all. Even professional artists faced the issue, but with Fresco you'll feel that watercolors have always been your force of nature. Just like the oil paints for the same reason.
Unfortunately, there's bad news for people who don't have a Creative Cloud subscription with a chance to download Adobe Fresco easily: this digital drawing program is pricey by itself. Also, the software lacks some editing options Photoshop has , so sometimes artists polish their illustrations in Photoshop afterward. Taking these two facts into consideration, if you're willing to get yourself Fresco, you should seriously look into the opportunity of just subscribing to Creative Cloud.
Windows (10 64-bit).
macOS (10.14 and newer).
Watercolor visual settings to adjust how paper texture influences the behavior of watercolors.
Watercolor DropEngine enables creating dripping effects.
Blow tool to experiment with the flow of the paint by blowing drips in different directions.
Acrylic Impasto to decide how you like your paint structure to be shown.
With Transparency Locking, every action is applied only on the paint, not the transparent areas.
Digital stencils to make own templates and create seamless patterns
Ruler Tool for precise drawings with an approach of a Free Hand effect.
Perspective Tool to express depth in your 1, 2 or 3 point perspective.
Rebelle 5 — US$89.99 .
free trial version available for both Mac & Windows.
Affordable price, no subscription
Realistic drawing physics simulation
Easy to use program with shallow learning curve
High hardware requirements
Very specialized app
Never had a chance to create in this one among all other digital art apps, so the first time was… spectacular! The official website boasted with a hyperrealistic watercolor process of creating an illustration in this paint software, and well, it was not lying at all. This program works just like the real-life drawing materials and tools ; it's fantastic.
The process is better to be started by choosing the paper canvas (there are several paper types to pick from, like hot & cold press, rough paper, Japanese canvas, and more) because this will also affect the way your brush strokes would be applied to your digital art. Thats one of the unique features of this digital art software. And when you tap the artboard with a watercolor brush, it absorbs a little. It can be blown in any direction, wet diffusion looking so realistic it's shocking (even with such a highly-developed level of technologies we have today, this thing can amaze any artist).
To sum the whole experience up, what buys your attention for this digital art software is its ultimate realism in transferring the classic artworks with not only watercolor , but also pastels, ink pens, acrylic, pencils, markers, and other drawing tools . Rebelle 5 would repeat the way you draw with dry materials on dry paper, with wet materials on dry paper, with wet materials over other wet materials and so on, you get the idea. A drawing software like this one, would be handy for the fans of "classic art" they've studied in special schools with academic drawing and obligatory plain airs.
Windows (8.1 version or higher) .
macOS (10.12 and higher).
Linux.
Over 100 professionally made brushes that come preloaded.
Brush stabilizers to smoothen it out.
Built-in vector tools help you create comic panels.
Customize your strokes with over 9 unique brush engines.
Wrap-around mode to easily create seamless textures and patterns.
Import brush and texture packs from other artists to expand your tools.
Clean and flexible Interface.
Opens PSD files that even Photoshop cannot open sometimes.
It's free drawing software, no trials.
Free drawing software
Lots of free education resources
Many brushes
It's very focused digital art software
Some features may seem unintuitive
Free software for digital artists — doesn't it already make Krita the best digital art tool? Of course not, but it surely adds extra points to its rating among the other drawing apps for professional artists, making this free open source software accessible to give it a test yourself without losing a penny. There is also a paid version of Krita on platforms such as: Windows store, Steam store, and Epic store.
You're welcomed by the totally intuitive and customizable interface of Krita: stack the things around the way you want them to be, according to your needs and their frequency. Speaking of tools, the great brushes library has a wide variety of realistic textures to pick from (inkers, pencils, watercolors, and more!). Touching upon realism, it would be fair to point out the blending options, that are so genuine and let you make adjustments on the already-painted canvas. There are other brush families to check out but nothing can explain it better than the personal experience.
Checking every drawing tool of Krita in tablet mode on our Wacom was so smooth; we felt that incredible program response to the angle of pen pressure and the speed of drawing . After working for several years in Procreate on iPad, we must admit that it was something not that remote to create concept art and illustrations in.
Layer management is not different from what we see in Photoshop, content of the layer can be edited via masks and filters . If you don't know what this or that icon means (you don't expect the painting program to fully repeat Adobe products, right?) Krita offers broad and insightful tutorials and help guides in its manual to always keep you on track.
Windows (Windows 7 and higher).
MacOS (10.13 and higher).
Linux.
Object creation (pencil, pen, calligraphy, text, bitmaps and clones).
Object manipulation (transformations, Z-order operations, grouping objects, layers, alignment and distribution commands).
Fill and stroke (color selector and picker, gradient editor, pattern fills, path markers, copy/paste style).
Operations on paths (node editing, converting to path, boolean operations, path simplification/insetting/outsetting, bitmap tracing).
Text support (multi-line text, kerning, letterspacing, linespacing adjustments, text on path, text in shape, uses any installed outline fonts).
Rendering (fully anti-aliased display, alpha transparency support for display and PNG export).
File formats (SVG, PNG, OpenDocument Drawing, DXF, sk1, PDF, EPS and PostScript export formats and more).
Download this free drawing software on the official website.
Free drawing software
Extensive selection of supporting formats
Large array of extensions
Steep learning curve
No CMYK color mode support
Creating vector graphics only
The turn has come for Adobe Illustrator's free opponent to be mentioned here — Inkscape. It's a vector graphics editing software , including all the same options Adobe Illustrator or CorelDraw has. The Inkscape team constantly released some new extensions you might find pretty handy, so dropping by their official website once in a while would vie a nice habit to have.
To put it briefly about the cons, there is a standard set of issues any free drawing software has. It's an abundance of bugs and system crash situations , as well as operating system speed when working with a multitude of paths. There's one more thing to add to this list. Inkscape doesn't support the CMYK colors , so if you're aimed at creating print-ready projects, it would be a sizeable problem. In other respects, this software is a fair replacement for the subscription-based Adobe Illustrator and despite all the cons, it worths being downloaded and tested out .
Windows (8.1, 10, 11 (64bit).
MacOS (10.15, 11, 12).
iPadOS (15).
iPhone (15, 16).
Android (9 or later(ARM32/ARM64).
Chromebook (ChromeOS compatible with Android 9 or later (ARM32 / x86 / x86_64).
Powerful brush engine, reflecting fine variations in pen pressure detected by drawing tablets.
With 1000 new materials every month, you'll always find something to match your style.
Includes adjustable 3D figures to freely change pose, proportions, and body type as needed.
The Artistic filter to convert any photos into artistic paintings.
AI-based automatic colorization and quick coloring with smart fill tools.
Image resolution up-conversion to resample images and erase jpeg noise.
Clip Studio Paint Assets help you quickly create artwork and designs.
Perform frequent or repeated operations with one click using Auto Actions.
Advanced vector tools
AI technology
Wide selection of custom brushes
Quite high pro & ex price
Too many adjustions wrapped up in a complex UI
Lack of options for manipulating fonts and texts
Clip Studio Paint Pro is the app, that has been flashing before our eyes on social media ad integrations so many times! We thought it's free drawing software but the close investigation of the tool library, user experience, and editing features has made us realize that such a gem can't be given away for free .
First released as a digital art software for creating comics and manga (it used to be called Manga Studio), and then turned into the expanded library of tools for illustration and graphic design , Clip Studio Paint Pro is a somewhat similar but paid software version of Krita: the application for drawing and painting, having a quite similar (adjustable and easy to use) interface. We used docking to place every required art tool around the artboard and checked out the window themes to make it lighter or darker.
To our greatest surprise, the command hotkeys in Clip Studio Paint were similar to Photoshop CC , making the adaptation process as easy as it can be via the intuitive interface. The digital art app supports vector graphics and raster tool choice , uniting the power of Adobe products under one roof. Nothing new and revolutionary about the vast collection of full-featured brushes: they are realistic, customizable (the stabilization tool works perfectly, hello, shaky hands!), and responsive. The only disadvantage found in Clip Studio Paint (and based on the users' and artists' feedback/reviews) is the lack of publishing tools , which were present in Manga Studio version.
Windows (10 or 11 with the latest updates).
macOS (12 or 11.0 with the latest updates) .
Pan, zoom, rotate and apply lighting and surface texture with ease.
Use the Color Wheel, Mixer, Color Sets and Harmonies to craft the perfect color palette
Over 900 brushes included in the library to craft your masterpiece.
Modify brush size, shape, angle, flow with in-depth brush control panels.
Enhance your artwork by using Papers, Flow Maps, Patterns, Textures, and Gradients.
Stylize image/photo using artificial intelligence and easily transform photos into paintings.
Build composition with Divine Proportion, Layout Grid, Perspective Guides and Mirror Painting.
Build up the smoothest strokes with Fluid Paint.
Full version costs US$429 .
Subscription US$14.08/mo (billed annually) or 365-day subscription for US$199 .
Free trial version for Mac and Windows.
Huge set of brushes
Various AI tools
Easy to use program with intuitive interface
No tablet or mobile apps
Performance issues on weak computers
Nothing resonates in mind as nostalgically as Corel Painter. Seems like more than one generation was raised with their painting programs, using some of the most essential and simple creative tools. Now it has gone more complicated and improved in its modern versions. Let's drop by to take a look at how things are going.
The modern Corel Paint version is way less laggy than it used to be for sure, thanks to the Brush Accelerator tool: the process goes nicely and smoothly. The interface keeps up with the other digital drawing software covered in this article, but if we compare with the Painter's predecessors, the fresh layout is more responsive, adaptive, and just… convenient : you get in terms with your creative needs easily and group every essential drawing tool icons around the artboard. There's nothing to point out about the Layers tool: it's the same with universal commands, wrapped in the style of Corel Painter.
Brush Selector shows the handy brush previews you can investigate before applying a stamp or a stroke, which is also a thumbs-up to Corel Painter. What was curious about this app is the Color Harmonies tool . It demonstrates the relative colors to the ones you currently use so it's possible to adjust just the right palette. It's a precious art tool for a graphic design software !
The new 2022 software update version adds points not only to intuitive interface, but also to the user experience on the whole by upgrading the brush tools: brand new categories and brush previews. Starting with a stamp brush tool, whose versatility was fostered greatly by adding a multitude of options like shape changing, edge effects, rotation, squeezing and anti-aliasing plus, and more of them. The company couldn't deprive a modern drawing tools user of changes in watercolor department: the new aquarelle compatible brushes invest in the realistic outcome of any artistic wandering. Of course, the layers, to which these strokes are meant to be applied were optimized according to the improved brushes!
Windows (7, 8, 10, or 11 each with latest service pack).
The powerful and highly configurable brush system to simulate any texture.
Intuitive, simple, and adjustable interface.
Artweaver records the painting process as events and allows to save and later to replay them.
The app's mighty core which utilizes existing hardware to a maximum.
You can work together on the same document with other artists over LAN or the Internet.
Plug-in support
Lots of raster painting tools
Affordable price for Plus edition
Available only for Windows users, no mac OS version
No open type fonts support
Outdated interface
Again, we encounter the Photoshop-like interface in this free version of a digital art software, looking like the ancient relative for it, and to be fair, the first impression was not wholly false. The toolbox is significantly weaker, than in Photoshop, but similar to the old versions of it , existed about 5 years ago. The name for commands and their placement is undoubtedly the well-known thing you'll nail within the first seconds of using Artweaver.
The 7th edition of this program has an expanded library of effects and custom brushes . Still, here you'll encounter some "out of reach" features — the maximum image size support, Photoshop filters, a more precise brush control, and others. And that's when the thoughts of purchasing the Plus version would push the artists' brain.
However, Artweaver 7 can surely be put in the row of good free drawing programs, at least because it's free software. But from our perspective, this is not a drawing or sketching software; it would be a better fit for the photo manipulation tasks and for professional artists, working with effects & layers .
Windows (7 SP1, 8, 8.1, 10).
macOS (10.9-10.15 versions).
iPadOS (11.0 or later).
iPhoneOS (9.1 or later).
Android (8.0 or later).
Over 50 brushes to use, each has various settings so they can be customized to your liking.
Sleek and lightweight: runs smoothly without slowing down your computer.
Like with most drawing software there's a layer function.
Snap Lines to draw lines, curves, perspective, or speed lines for action scenes perfectly.
Comic panels can easily be made by slicing across page borders in any direction.
When starting a new comic project you can save all of your pages in one file.
You can sync your brush and other settings across devices.
Comes with 800 free pre-made tones and backgrounds to use.
It's free drawing software.
Free drawing software
Easy to use interface even for beginners
Available on all platforms
Perfect for manga artists
Lacking of advanced features
Creating new brushes can be difficult
Free drawing and no annoying ads popping up here and there — it's not a distant dream with MediBang Paint Pro. You can download this free drawing software to any device (PC, Mac, iPad, iPhone, Android) and experience the absolute ease of a workflow, bordering on something meditative. But you have to set the MediBang account first to access every drawing tool. Totally worths it, and you'd thank yourself later after discovering that all your creations and concept art get stored in the cloud service .
The working process in MediBang Paint includes a thorough and transparent guide for digital artists on how things operate in there (which is already very obvious from the well-organized interface, even in mobile version, where it's hard to be both explanatory, spacious, and look user-friendly), which is great for beginners .
Contextual interface triggers the related tools to the ones you've already used to appear, which turns the process into a drawing symphony. Besides, it reserves the place for truly important and useful things at the moment. Drawing in this free painting app feels natural : no slow, inaccurate strokes or the unintended moves.
Windows (7 or higher).
macOS (10.9 or later).
iPad and iPhone (iOS 10 or later).
Android (4.0 or higher).
Smear and blend thick oils to create natural color gradients.
Sketch with pencils and shade with the edge of the tip.
Create delicate watercolor strokes that react to canvas texture.
Use photos as References while painting.
Work with Guides, Grids, and Perspective Layout tools.
Layers, Blend Modes, and other industry standards.
Free demo-version for Windows/macOS with limited functionality.
ArtRage Vitae Desktop — US$80 .
ArtRage 6 — US$59 .
ArtRage Lite — US$29.90 .
ArtRage Vitae for Android — US$4.99 .
ArtRage Vitae for iOS — US$4.99 .
Realistic drawing process & real world color blending
Affordable digital painting software
All the features put into intuitive interface
Lacking of advanced editing features
Demand powerful computer to work efficiently at larger print sizes
The Photoshop comparisons as the industry standard measuring digital painting software are inevitable, when it comes to enumerating and reviewing best digital art software. Speaking of ArtRage, Photoshop can be brought up when speaking of interface and accessible functions as the program has many similarities with Adobe's drawing software, making your transition less painful , saving tons of time on discovering digital painting functions. Sometimes ArtRage may seem to be even easier to use, great for beginners , who want to get the best full-featured drawing and painting equivalent.
Minimalistic yet multi-functional interface panels unveil the creative possibilities, being very clear and flexible. In particular, we liked the circular, artistic palette-like set of panels in the corners of the screen, leaving no chance for an eyesore to interfere with the inspired workflow. It's super easy to find the tool you need in such a wide variety!
The feature ArtRage can be freely called the best drawing software for is the realistic behavior and traditional feel of brush strokes , especially the oil brushes and watercolor ones. The natural-looking paper and canvas texture allow the stokes to produce close-to-life art pieces without the hint of a digital effect. So once you decided to quit the world of sketchbooks and albums for drawing, saving the benefits of natural materials, take a look at ArtRage, it'll be your salvation!
macOS (10.10 or later, 64-bit processor).
iOS (iPhone and iPad compatible, for iOS 7.0 or later).
Unlimited layers to create, delete, paste, scale, rotate and re-order.
Infinite canvas size.
Drawing record function (to record and playback the process).
Support of many image formats to the Mac paint tool.
Continuous auto-save — never lose work again.
Pressure-sensitive could be adjusted.
100 shapes natural paintbrushes: brush, pencil, pen, airbrush, watercolor brush, chalk, etc.
50 kinds of background templates in template Library.
MyBrushes-Sketch, Paint, Design — US$29.99 .
MyBrushes Pro – Sketch, Paint and Draw — US$4.99 .
Unlimited layers
Easy to use interface
Quite low price
Needs an update badly
Not much for advanced professional features
Suppose you're on the very rise of your designing or drawing career or have no professional intentions for the painting programs you're choosing at the beginning of a creative path. In that case, MyBrushes Paint is your win-win solution. This digital drawing software is created with a straightforward and user-friendly interface even a rookie can navigate through. It seems to be the best drawing software in terms of simplicity enumerated in the list so far but don't let this thing trick you into making assumptions about its functionality.
The most remarkable features we've discovered comprise canvas of any size you want to create and unlimited layers , so you can draw on or edit any object your creative heart desires. And yes, aside from that, the software has color pallets, brushes, supported by a good pressure sensitivity to carry out beautiful digital art (although the same can't be said about a case when you work with your finger on the screen).
Our verdict: it's not one of the best but the basic applications for drawing if you're not a professional designer. Nevertheless, the low price with this amount of full-featured functions and editing possibilities is fair and square.
Windows (Vista, 7, 8, and 10 versions).
macOS (10.7 and higher).
iPad (iOS 12.0 or later).
Linux.
Full control of all bush options.
Stroke post correction.
Parameters binding to the perspective.
Full controlled mask-brush.
"Close gaps" function when you fill or select.
Individual hotkeys.
Powerful Symmetry and Kaleidoscope tools.
Brush stroke stabilizer for straight lines.
Provides the finest level of control
Wide personalization options
Fast GPU Engine
Steep learning curve
Crowded default interface
Once you open this software, there are too many control panels popping up, invading the interface! But all the professional artists' fears and worries fade away once discovering that everything's in Paintstorm Studio is customizable and manageable . Having the workspace packed with dozens of used tools, don't forget to set the keyboard shortcuts; otherwise, you'll get lost. The personalization lets you control the app and not the other way around!
The mildly infuriating about Paintstorm Studio might be the fact that you suddenly find yourself messing around with settings for an hour or so , but the actual drawing process hasn't begun. So don't fall into this trap either.
The brush features open a wide range of creative possibilities , it's the best way to experiment with them for as long as you want! What is genuinely convenient is the tool, letting you avoid the manual resizing or changing transparency for the brush strokes if you draw something, having a random structure such as water, bushes, hair, maybe. You need just to define the required perspective with a guide one time, so the future strokes will be managed according to your settings.
Spend some extra time figuring out all them features for each option, and Paintstorm Studio will become the best digital drawing software for you ! And don't forget about the free version of it, coming as a demo.
macOS Big Sur (11.0.0) or newer.
Intuitive and powerful vector editing tools.
Boolean operations are non-destructive, editable and easy to combine.
With pixel-level precision it's easy to zoom in, align things perfectly and adjust layers.
Export individual assets exactly the way you want them with extensive export options.
Quick shortcuts to toggle grids and layout views, with a full set of customization options.
Resizing constraints, making it easier to scale things up and down for different screen sizes.
Infinite control over typography with Variable fonts support, and OpenType features.
Smart Layout give the Symbols superpowers to automatically resize & fit the content.
Access a free 30-day trial.
For individuals and teams — US$9.00 per editor monthly or US$99.00 yearly.
For businesses — US$20.00 per editor monthly.
Very quick learning curve
Powerful tools for vector graphics
Perfect for UX/UI design
Only available for mac os
Not the first choice for professional digital artists
Among the other drawing apps, Sketch with its diamond icon has always been the favorite one among the UI/UI designers as the industry standard, and it's honestly the best solution for designing websites, apps, icons, and more . Just like the other art programs, this one has its own layers structure and its tricks: you can switch between layers and have them with totally different parameters set, corresponding to what you're working on in the particular layer.
Traditionally, first comes the interface: clean, flexible and eye-pleasing , making the learning process easy-peasy and intuitive. Even a zero-level designer can pick up knowledge by trial and error, simply reading the sections' names and logically following the workflow.
As a digital art software, Sketch substitutes many other drawing apps, uniting the required functions in a single place. You'll get excited by the way your creative process goes quickly and smoothly because of various third-party plugins and other app integrations.
Now a couple of words about the most outstanding features. Sketch allows to work in both vector and raster , you can export various formats and device resolutions to work with. Definitely check out the "Data Fill" feature, if you want to have your design assets be filled with actual data it would contain in the end (from Google Sheets or Excel, for example), or something similar to it, so you can have a gasp of the ready-made project, which's just the best!
After discovering the prototyping tool your work will become less monotonous: create UI flowcharts and make different designs simultaneously, without having to download additional software. What a blast!
Windows (10 version17763.0 and higher).
macOS (10.14.0 or later).
iPad (iPadOS 11.0 or later).
iPhone (iOS 11.0 or later).
Android (OS 5.0 and higher).
Predictive stroke to smooth line work and correct basic shapes.
Using layers and color fill tools you can apply a variety of techniques to color your work.
Got full complement of brush types: pencils, markers, airbrushes, paint, smear and more.
Sketchbook provides a faithful representation of your strokes with pressure and tilt.
Easy distortion of illustration to fix perspective and proportions.
Lots of extras available.
Fully adjustable rulers, ellipse guides, and French curves for precision drawing.
SketchBook Pro — US$19.99 .
SketchBook — free .
Extremely responsive to a stylus or apple pencil
Advanced color editor and custom color palettes
Lots of professional painting tools
Some features take longer to load up
No more Copic markers after separation from Autodesk
As for the sketching software, this one with a name speaking for itself is a real catch! The SketchBook is a free drawing app that has everything for convenient sketching: it's packed with customizable brushes, stroke stabilization for straight lines, color library, gradient fills, blending modes, advanced layers (can be arranged in folders within one artwork). The interface is clear and intuitive: everything is well-arranged, so the artboard is all yours; you can put so much free space to good use!
Available as a desktop version, the mobile one is also keeping up, and it was particularly interesting to give the mobile version a test. It has everything you need, many useful brushes and coloring drawing tools . Even if you have sketching software but don't have a stylus, using your finger won't be a disaster — A+ for the responsiveness.
SketchBook is a perfect alternative for an actual sketchbook paper , giving you a chance to put down your ideas, concepts, drafts, and sketches whenever the bright idea or inspiration strikes you. Moreover this digital art software got mobile version as long as desktop version.
Nimble, distraction-free, and easy tool for digital painters.
Supports graphics tablets made by Wacom, and many similar devices.
The brush engine is versatile and configurable, and it provides useful, productive tools.
The standard brushes can emulate traditional media like charcoal, pencils, ink, or paint.
It's easy to make expressive, artful new brushes that don't respond like anything conventional.
Fullscreen mode declutters the interface, leaving you with just your brush and your creativity.
MyPaint has simplicity, yet it gives you all the digital art tool you need to create great artwork.
MyPaint is a free drawing software.
Superior media emulation
Nice symmetry tool
Free drawing software
Focuses only on digital art
Too techie to install
Latest releases may be unstable
Your eyes and mind will be resting while drawing in this open-source painting program . We've brought up minimalism so often, talking about display and interface, but here these benefits are reflected via a unique full-screen mode without distractions on your canvas.
Adjustable brushes configuration and easy stroke stabilization in a relatively big selection of drawing materials and pencils in a free drawing app will suit your needs perfectly. MyPaint supports tablets , but it's not a crime to draw with a mouse once in a while, just for fun (and even have some decent-looking images as a result). Mostly if you use the Symmetry tool, Lines, and Curves : it's possible to preview the Pressure Variation for Lines and Curves.
This free painting software is so light that it seems like you can physically feel it: the speed at which you work and create another illustration is pretty high. The app supports Open Raster as the default file format, but it can save images in JPEG or PNG if needed.
Over 9000 brushes included, covering every area of digital art.
Powerful brush engine to mimic full natural media brushes, complex blending operations, etc.
A large array of color palettes, including, dynamic and mixing ones.
TwistedBrush fully supports transparency and layers with all the standard layer mixing modes.
A specialized sequencing system over 400 brushes effects modify the core brush types.
The extensive mask support for protecting and selecting parts of your images.
Over 200 image processing filters give you the tools to manipulate your photos or other work.
Tracing paper — a drawing guide that allows to see another image below your current image.
Tons of pre-made brushes
Extended export options
Low basic learning curve
A bit outdated UI
Lack of customization
Dive into the extensive collection of more than 9000 brushes ! If it's still not enough for your art-craving soul, you can use the bush customization tools to create your own sets. The same abundance is seen in the included filters, which provide tons of alternatives to your photo editing process. This digital drawing software has all the other features you expect to see in the app: layers, brush settings, import and export options , and so on. Even though you have so many tools (and again, brushes!) available at your disposal, the menu doesn't look cluttered .
Talking about the sphere of use, this app would surely step aside for the majority of the programs mentioned above. Why? TwistedBrush appears more as a tool for illustration or photo-editing as a hobby, even with so many similar features. It will be challenging to bring to life technically complex ideas and tasks.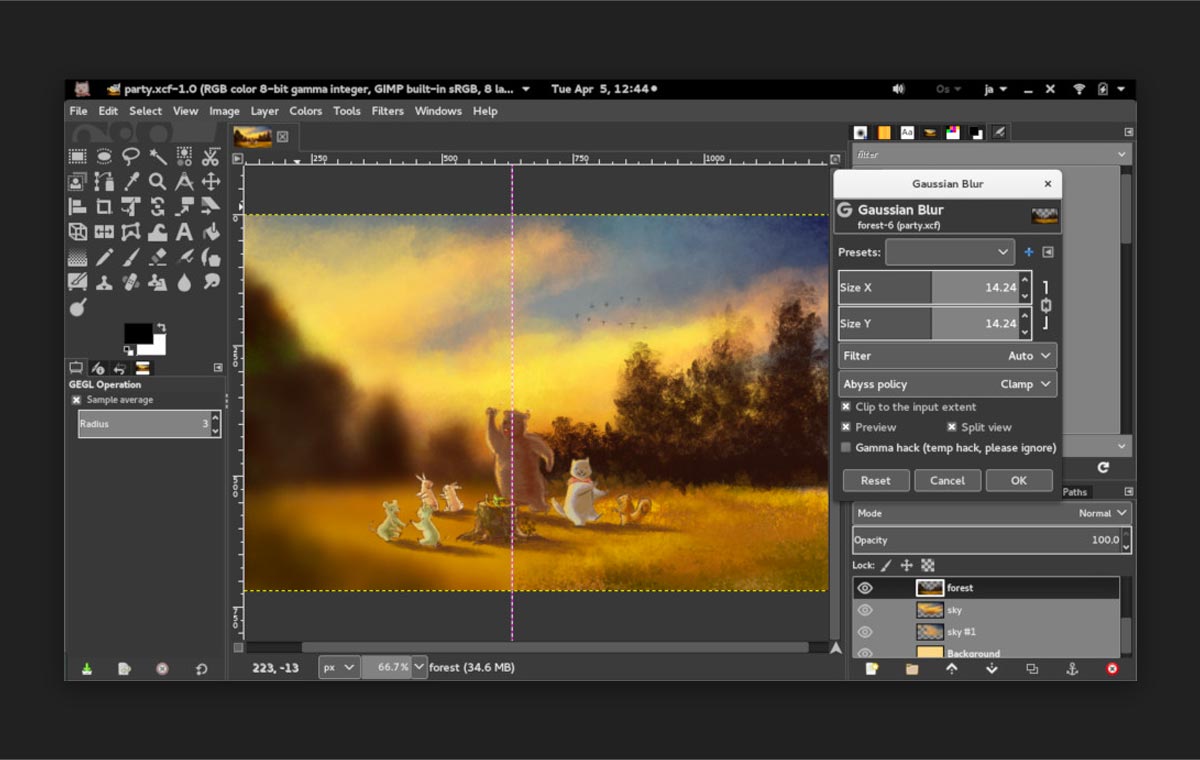 Windows (Windows 7 and higher).
macOS (10.12 Sierra or newer).
Linux.
Customizable interface.
Photo enhancement.
Digital retouching.
Hardware support.
The vast file format support.
GIMP is a free software you can download via the link below.
Free open source software
Nice exporting options
Large number of tools at your disposal
Dubious credibility of 3rd party plugins
The UI should be revamped
Lack of customer support, since it's open source
GNU image manipulation program, or shortly GIMP, is a free, open-source program , allowing any interference and customization via the 3rd party plugins , so you can always load something you lack into the app. The credibility of these plugins might be questioned, but still. It would be tedious to enumerate all the creative possibilities GIMP offers; let's just say it can fairly compete with Photoshop . Besides, the software receives regular updates aimed at fixing errors and bugs, optimizing the workflow.
As always, there's a backside for this free drawing software festivity. The interface looks like a "hello" from the past with its outdated appearance. But it's not only about aesthetics: the terminology and functions are hard to grasp at first. You need to either watch tons of tutorials or spend time with the "trial and error" method until you finally get used to it . Even if you think the program mimics Photoshop, you'd be wrong when taking a closer look. For instance, our favorite "drag & drop" feature doesn't work that smoothly; to add something in the layer, you need to edit its properties and not just throw the graphics in there.
In conclusion, GIMP is a very nice free drawing software replacement for Photoshop, but professional graphic designers, working on some big projects will feel the scarcity of working drawing tools. But hey, you can always donate to this free drawing software developers as an investment into a more speedy improvement process!
Drawing Software

Supporting OS

Best For

Pros

Cons

Price

Our Team's Rating

Windows (10 64-bit (version 20H2) or later)
macOS (macOS Big Sur (version 11.0) or later)
iPadOS (14.0)

Photo editing
Graphic design
Raster image editing
Digital art

Useful Plug-Ins, Filters, Textures, Overlays, and Actions
Support of graphics tablet
Cloud Storage
Very versatile functionality among other drawing programs

Expensive Creative Cloud subscription
Steep learning curve
Very space-consuming program
Limited support for vector graphics

Windows (11 and 10 (64-bit) versions V21H1, and V20H2).
macOS (version 12.0 — Monterey, version 11 — Big Sur, version 10.15 — Catalina).
iPadOS 14 or later

Vector illustrations

Packaging design

Logos

Icons

Infographics

Versatile software for digital artists

Best file recovery

Wide variety of exporting options

Awesome image tracing tool

Takes up a lot of disk space

It's hard to learn for beginners

Limited support for raster graphics

Expensive CC monthly subscription when you need only Adobe Illustrator

Windows (7 (Service Pack 1; Platform Update KB2670838; Aero enabled), 8.1, 10 (1607 Anniversary update or higher), 11).
macOS (10.9 — Mavericks or later).
iOS (12 or above).

Creating concept art
Print projects
Logos
Icons
UI designs

Combines vector & raster design tools
Handle 1000s of objects with no lag
Affordable software with one-time purchase payment

Graphics tablet support is still a work in progress
No .ai file export

Affinity Designer — US$69.99

Affinity Designer for iPad — US$19.99

iPadOS (14.4 or later).
iOS (15.4.1 or later).

Digital art
Character art
Animation

Affordable price
Perfectly simulates real-life painting
Lots of advanced drawing features

Gets slower when there are a lot of paintings in the app
Available only for iPhone and iPad users

Procreate — US$9.99

Procreate Pocket — US$4.99

Windows (11 version 22000 or later, 10 version 1903 or later).
iPadOS (iOS version 14 or later.
iPhoneOS (iOS version 14 or later).

Digital art
Concept art
Character art
Illustration

Realistic brush, pen, and pencil physics
Raster and vector tools support
Easy to learn UI

Expensive digital art software
Lacking of basic editing features

Windows (10 64-bit)
macOS (10.14 and newer)

Affordable price, no subscription
Realistic drawing physics simulation
Easy to use program with shallow learning curve

High hardware requirements
Very specialized app

Windows (8.1 version or higher)
macOS (10.12 and higher)
Linux

Digital art
Concept art
Character art
Comics
Illustration

Free drawing software
Lots of free education resources
Many brushes

It's very focused digital art software
Some features may seem unintuitive

Windows (Windows 7 and higher).
MacOS (10.13 and higher).
Linux

Vector graphics
Logos
Icons

Free drawing software
Extensive selection of supporting formats
Large array of extensions

Steep learning curve
No CMYK color mode support
Creating vector graphics only

Windows (8.1, 10, 11)
macOS (10.15, 11, 12)
iPadOS (15)
iPhone (15, 16)
Android (9 or later)
Chromebook (ChromeOS compatible with Android 9 or later)

Character art
Concept art
Illustration
Manga

Advanced vector tools
AI technology
Wide selection of custom brushes

Quite high pro & ex price
Too many adjustions wrapped up in a complex UI
Lack of options for manipulating fonts and texts

One-time purchase of US$49.99

OR

free trial for 3 months then monthly/annual plans

Windows (10 or 11 with the latest updates)
macOS (12 or 11.0 with the latest updates)

Digital art

Concept art

Illustration

Huge set of brushes
Various AI tools
Easy to use program with intuitive interface

No tablet or mobile apps
Performance issues on weak computers

Full version — US$429

OR

Subscription US$14.08/mo

Windows (7, 8, 10, or 11 each with latest service pack)

Photo manipulation
Image editing
Sketching

Plug-in support
Lots of raster painting tools
Affordable price for Plus edition

Available only for Windows users, no mac OS version
No open type fonts support
Outdated interface

Free version

OR

Artweaver Plus — €34

Windows (7 SP1, 8, 8.1, 10)
macOS (10.9-10.15 versions)
iPadOS (11.0 or later)
iPhoneOS (9.1 or later)
Android (8.0 or later)

Free drawing software
Easy to use interface even for beginners
Available on all platforms
Perfect for manga artists

Lacking of advanced features
Creating new brushes can be difficult

Windows (7 or higher)
macOS (10.9 or later)
iPad and iPhone (iOS 10 or later)
Android (4.0 or higher)

Digital art
Concept art
Illustration

Realistic drawing process & real world color blending
Affordable digital painting software
All the features put into intuitive interface

Lacking of advanced editing features
Demand powerful computer to work efficiently at larger print sizes

ArtRage Vitae Desktop — US$80

ArtRage 6 — US$59

ArtRage Lite — US$29.90

ArtRage Vitae for Android — US$4.99

ArtRage Vitae for iOS — US$4.99

macOS (10.10 or later, 64-bit processor)
iOS (iPhone and iPad compatible, for iOS 7.0 or later)

Unlimited layers
Easy to use interface
Quite low price

Needs an update badly
Not much for advanced professional features

Desktop version US$29.99
Mobile version US$4.99

Windows (Vista, 7, 8, and 10 versions)
macOS (10.7 and higher)
iPad (iOS 12.0 or later)
Linux

Digital art
Concept art
Comics
Manga
Illustration

Provides the finest level of control
Wide personalization options
Fast GPU Engine

Steep learning curve
Crowded default interface

Paintstorm Studio — US$19.00

Paintstorm for iPad — US$12.99

Very quick learning curve
Powerful tools for vector graphics
Perfect for UX/UI design

Only available for mac os
Not the first choice for professional digital artists

For individuals and teams — US$9.00 per editor monthly or US$99.00 yearly

For businesses — US$20.00 per editor monthly

Windows (10 version17763.0 and higher)
macOS (10.14.0 or later)
iPad (iPadOS 11.0 or later)
iPhone (iOS 11.0 or later)
Android (OS 5.0 and higher)

Digital art
Concept art
Character art
Comics
Manga
Illustration

Extremely responsive to a stylus or apple pencil
Advanced color editor and custom color palettes
Lots of professional painting tools

Some features take longer to load up
No more Copic markers after separation from Autodesk

SketchBook Pro — US$19.99

SketchBook — Free

Superior media emulation
Nice symmetry tool
Free drawing software

Focuses only on digital art
Too techie to install
Latest releases may be unstable

Digital art
Illustration
Photo editing

Tons of pre-made brushes
Extended export options
Low basic learning curve

A bit outdated UI
Lack of customization

Version License — US$109

Perpetual License — US$199

GIMP (GNU image manipulation program)

Windows (Windows 7 and higher).
macOS (10.12 Sierra or newer).
Linux

Digital art
Illustration
Photo editing

Free open source software

Nice exporting options

Large number of tools at your disposal

Dubious credibility of 3rd party plugins
The UI should be revamped
Lack of customer support, since it's open source
Frequently Asked Questions